Our Bin Rental Company in Vaughan Is At Your Service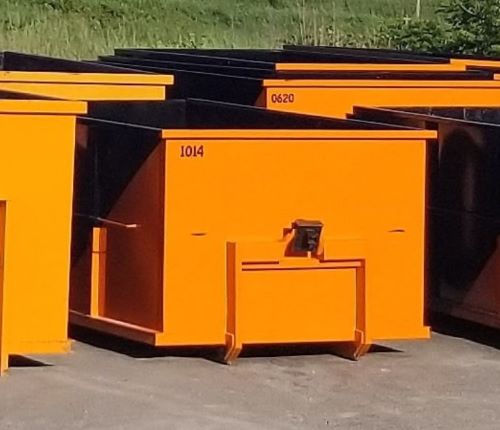 At our BinWorks bin rental company in Vaughan, we value what our customers think of us, because we value our chosen field: helping clean up messes. Our disposal bins range from 5 to 20 cubic yards in size, and have rollers so as not to damage your property. Our operations are reliable, efficient, and affordable.
We charge just 2 prices: your bin rental price, which varies depending on the size of your bin, and a flat dumping fee of $95 per ton, or $300 per ton of clean fill (i.e., soil, dirt, concrete, asphalt, sod). We even promise to either match or beat lower offers from other bin rental companies.
Bin Rental in Vaughan: Forget The Mess
Our trained, knowledgeable professionals know there is no reason for disposal not to be a safe, hazard-free process for all involved. We let you decide what is best for your situation, but are more than happy to help you figure out what might best suit your needs. Whether you require disposal bins to clean up the mess left over after a renovation on your house, a messy construction project, or a demolition, BinWorks is proud to offer professional services that help you get the clean-up done in record time. Get it done right with BinWorks bin rental for Vaughan and the GTA.
Reasons to Rent Your Bin from Vaughan Bin Rental Services
BinWorks takes pride in sharing that we are one of the best and most reliable services in bin rental, Vaughan. We are committed to providing high quality services to our customers in Vaughan as we continue to grow and expand. Our full-range of bin rental services from delivery, dumping, and pink up strive to maximize customer convenience and ease-of-use. Whether you are looking to clear your home or local garden or dispose off some construction waste, we cater to all such needs as we believe in satisfying the needs of our customers completely.
Transparent Pricing and Invoicing - At BinWorks, we are completely transparent to our customers about our pricing and invoicing. You can give us a call for a free quote, and we will guide you with the entire process to choose the best bin rental. We also invoice you the amount with proper bill and other documents and have facilities through which you can pay your
Range of Bins only at One Platform - At Bin Works, we have different sizes of bins available to cater to different jobs starting from roofing projects to soil disposal bins, as well as any household or industrial needs

5 Yards Bin: Ideal for Small Jobs
8 Yard Bin: Ideal for Small to Medium Job
10 Yard Bin: Ideal for Small to Medium and Large Jobs
12 Yard Bin: Ideal for Medium as well as Large Jobs
20 Yard Bin: Ideal for Large Jobs
30 Yard: Ideal for Commercial and Industrial Projects

Any Bin Rental Needs: Let us Know - We understand the needs of our customers effectively, so you can directly engage with our team for any type of requirements in bin rental Vaughan, such as cleaning leftovers, construction debris, collecting backward waste with any requirements for soil disposal bins, etc.
How Do Home Projects That Benefit From Bins Rentals?
Wondering how to properly dispose of waste materials and garbage like dirt, soil, concrete, asphalt, and even sod in your housing society? Then you are at the right place because we will be highlight ways following which you too can practice proper garbage disposal for your home. In addition to that, we will also mention how bin rental Vaughan helps hundreds of housing societies by providing them with rental bins to dispose of their garbage correctly. In case you are thinking that rental bins are only for large-scale projects, then we will break your misconception here.
It is the safest method: Not disposing of garbage properly can cause a lot of problems like health hazards, an unhygienic environment, and also disruption in the daily social cycle among others. Pieces of garbage including glasses, pieces of wood, and nails can cause physical damage and require proper disposal.
It is the most convenient option: Instead of dropping off wastes from one corner to another, you should hire bin rental Vaughan and drop the waste materials in the bins. All you have to do is dump everything in the bin and you will be done for the time being.
You are allotting a specific spot for the waste: We recommend you using bin rental Vaughan because then you are using the designated bin for disposing of garbage instead of throwing waste materials here and there. Regardless of what the waste is, glass, wood, metal, soil, dirt, asphalt, or even sod, all you have to do is drop the waste in the bin.
It is inexpensive in the long run: Not disposing of garbage properly could land you in legal trouble, compared to which bin rental Vaughan are fairly inexpensive. The latter allows you to maintain a healthy living environment.
Expert Vaughan Bin Rental
The staff at our Vaughan bin rental service is well trained, ensuring the best customer experience possible—always our first priority. When you are ready for a bin drop-off, simply call us and we will deliver your bin without delay so you can get started. Once your bin is full, let us know and we will do a pickup and efficiently dispose of your bin's contents.
Trusted by homeowners, businesses & contractors. BinWorks offers a broad range of garbage containers (dumpsters). We a variety of yard containers sizes for commercial and residential bin rentals. BinWorks has affordable pricing and promises to beat or price match any local competitor pricing! From residential cleaning to renovations in Vaughan and the surrounfign areas, Binworks has you covered. Our pro team will take on any project, no matter how big, small, or messy. Not sure how to best begin your clean-up process? Contact our friendly team today and we would be happy to help you get started.
Bin Rental Vaughan Pricing:
Select a dumpster to learn more about best size, features and what to expect with your bin rental price.
Area We Serve in Vaughan:
Kleinburg, Concord, Maple, Thornhill, Woodbridge, and surrounding areas.
BinWorks Disposal Inc - Vaughan Bin Rental
Maple, Vaughan, ON L6A 4C5