Bin Rentals In Vaughan: The Best Way to Eliminate Waste from Your Construction Site
Posted in Bin Rental, on October 05, 2021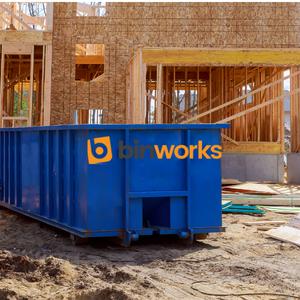 Managing and eliminating waste on a construction site can be a real headache. Mounds of debris on your site not only hamper work but are also a safety hazard. Thankfully, a bin rental in Vaughan is the answer to all your waste problems. Bin rentals are a crucial component of any waste management plan as they maximize efficiency and keep the construction site clean.
Here's why a construction bin rental is the best option for waste removal from your work site:
A Bin Rental Makes Things Easier
Hiring a bin rental in Vaughan will take the worry of waste disposal off your hands. You don't have to organize the gathering, picking, and disposing of construction rubble. The dumpster company will drop off the bin, pick it up, empty and redeliver it for subsequent use. Waste management is easier when you have a designated place to dump all the trash—it will keep the site clean and not stall the workflow. What's more important is that you can concentrate on the actual work instead of arranging for the collection and disposal of waste.
Ensures a Safer Work-Site
Construction work can generate an astronomical amount of waste. It is vital to have a proper disposal plan in place to avoid clutter and potential accidents. The waste lying around can be an obstruction to work and a safety risk for workers. Exposed rubble like jagged concrete pieces, rusty nails and shards of glass can all cause injuries. A construction bin rental will take care of waste as it is created. Just clear out the debris and throw it in the dumpster, ready to be picked up. A bin rental thus minimizes the risk of accidents associated with uncontrolled construction waste.
Are Cost-Effective
While you may think that managing waste on your own is cheaper, it may be more expensive in reality! Think of all the time and effort needed to collect, transport and dispose of rubbish. Time and effort that can be spent productively on actual project work. Add to that the cost of transportation, disposal and landfills. You may also end up with more waste than anticipated, leading to a waste of time, money, and resources.
Eco-Friendly Option
Construction debris is a mix of concrete, wood, drywall, roofing, flooring, and tiles. Everything can't be dumped in a landfill, and you really don't have the time to sort out recyclable waste. While some materials like drywall have specific regulations for disposal, hazardous materials like batteries, paint etc., cannot be just dumped in a landfill. Here's where a bin rental can step up. Separate disposal bins for clean-fill materials and other junk can help organize waste. Else, eco-friendly dumpster rentals can do the tedious work of sorting out the recyclable waste and delivering it to the proper facilities. They also know the appropriate disposal protocols for drywall and other such items. Renting a dumpster is thus a sustainable and eco-conscious choice for responsible waste management.
Hassle-Free Bin Rentals in Vaughan
As you can see, a construction bin rental is convenient on multiple fronts. If you've not booked your dumpster yet, choose Binworks for quick, reliable, and affordable service. We provide high-quality dumpsters that are the right size and depth for your unique disposal needs. Waste removal is a breeze with Binworks. Get in touch to get started today!