How to Choose the Right Bin Rental Company in the GTA
Posted in Bin Rental, on June 15, 2021
There are hundreds of bin rental companies to choose from in the GTA alone, each a little different than the one before. While it may seem like you should go with just any provider for your disposal bin rental, the right bin rental company will make your rental experience stress-free and easy. If you're looking to rent a disposal bin in Vaughan, North York, Richmond Hill, Thornhill or anywhere else in the GTA, read this list to help choose the best rental bin service for you and your project.
Project Types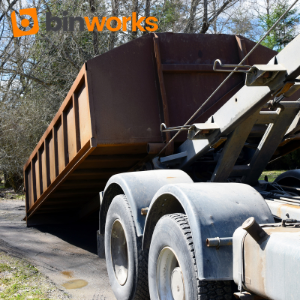 Different types of projects have different disposal bin needs, from construction bins to junk removal bins. A good rental company should be able to manage those needs. Clean fill disposal (waste like concrete, sod, and bricks), most often needed at construction or demolition sites, require specific disposal requirements. At Binworks our bins can be used for a wide range of residential and commercial projects.
Rental Period
To make the rental process simple and easy for both parties a bin rental it's ideal to choose a bin rental company that sets their rental terms for more than one day. Paying on a day-by-day basis is hard to manage, especially for longer projects that exceed a week. Daily rental fees are typically more expensive than longer rental terms.
At Binworks, we offer our customers a 7-day rental period that's simple and easy to follow. If you need to extend the rental period for your bin, you can do so with a quick call.
Size Options
One size doesn't fit all when it comes to disposal bins. Choose a company that provides a variety of size options that best suit your residential or commercial project. If you end up with rental disposal bin that is too big for your project, you'll end up paying more than you need to be. If your bin is too small, you'll have to rent multiple bins which can end up running up your bill needlessly.
Last Minute Deliveries
Sometimes you may realize you need a bin rental on short notice. However, not every disposal bin company can accommodate a last-minute bin rental. At Binworks, we allow our customers to order a disposal bin and receive it at your front door within no more than 24 hours as long as we have inventory available.
Customer Service
What makes the bin rental experience memorable is a pleasant experience with the bin rental company as there can be quite a bit of communication between ordering, organizing pickups, deliveries, and dumping. Your company of choice should provide timely updates and knowledgable response.
Delivery Services
The idea of picking up, dropping off, or dumping the contents of your disposal bin on your own is daunting. Choose a bin rental company that takes care of these little steps for you. The Binworks team will deliver your bin right to your doorstep, pick it up and dump it when the time comes. These hands-off deliveries are stress-free, easy to manage, allowing you to focus your time on the project at hand.
Reviews & Testimonials
What others like you have to say matters. There is no better indication of the success and experience you will get from a bin rental service than a customer review or testimonial. Look for a bin rental company that boasts positive reviews online to ensure the best rental experience.
Contact the Binworks team or request a bin online today to a rental bin for all your disposal needs!