5 Home Improvement Projects that Require Bin Rentals
Posted in Bin Rental, on February 10, 2021
With spring around the corner, many of us are already dreaming of home improvement projects! While remodelling does seem like a Herculean task, efficient planning can make your project go smoothly. Any renovation project will undoubtedly produce mountains of waste, so a bin rental will help you get rid of the junk efficiently. Instead of piles of garbage littering your yard or driveway, a well placed disposal bin rental will keep your property clean and organized.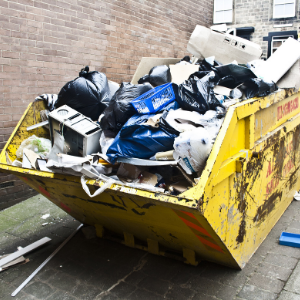 5 home improvement projects that require a bin rental:
Kitchen Renovation

Basement Renovation

Bathroom Makeover

Pool Installation

New Roof
#1 Kitchen Renovation
One of the most popular renovations, a kitchen remodel can breathe new life into your drab old kitchen. Modernizing your kitchen also means a large amount of waste from all the fixtures, cabinets, tiles and concrete you may be discarding. A bin rental is a super convenient and effective solution to deal with all the debris and construction waste. It also means a safer and cleaner worksite, with increased productivity and safety.
#2 Basement Renovation
Whether you plan to add a room, build an entertainment space or add a home-gym, a finished basement can add significant value to your home. That said, converting your basement into a dynamic multi-functional space will generate a lot of waste material. From old household waste to insulation & carpeting, basements can churn out colossal amounts of trash. That is why we recommend a disposal bin rental to manage all the junk with ease and efficiency.
#3 Bathroom Makeover
A bathroom remodel can modernize the look and feel of your bathroom apart from adding to your home-aesthetics. However, this typical home improvement project generates a tonne of debris—tiles, old bathroom fixtures, old sink/hardware, concrete etc. Hiring a bin rental can help you deal with all the garbage without having to stress about the mess!
#4 Pool Installation
A new pool can be an excellent addition to your backyard but installing a new in-ground swimming pool means a massive amount of debris. Soil needs to be dug up, removed and disposed of properly. You'll also end up with concrete, tiles, and other debris, which may double if you are also removing your old pool. A disposal bin rental will make life, and your project go easier! With a designated place to put all your waste and quick removal process, you can streamline your pool installation and renovation.
#5 New Roof
Re-roofing can be an arduous job with all the shingles and roof-tear off to take care of. A conveniently placed bin-rental can help you do the work efficiently. Just hire an affordable disposal bin rental and place it within throwing distance of your roof! All the old shingles can simply be dumped right into the dumpster, easing up the work-load of collecting and storing all the debris.

You really don't need the hassle of waste management added to your renovation worries; just order a bin-rental and focus your energy on getting your design elements in place. Whichever project you're working on, let Binworks take care of all your renovation woes with our instant online bin rentals in Richmond Hill, Vaughan Aurora, King Cit and the surroundign areas, with quick delivery & pick-up. Fast, affordable, and reliable, we've got the perfect dumpster for your project! Dial 416.500.4206 for hassle-free & contact-less waste-disposal!