Get A Commercial Bin Rental For Your Office Spaces
Posted in Bin Rental, on March 22, 2021
Garbage disposal and waste management is often an ignored yet essential part of any construction process. Improving efficiency and reducing the time required to remove waste from the construction site can significantly improve your project's speed and productivity. One of the best ways to improve the waste management process is by utilizing a disposal bin rental. By placing a disposal bin near the construction site, you can quickly fill it up and reduce the amount of time it takes to pick, transport, and dispose of garbage on your own. Bin rental services also provide transportation to and from the construction site, helping you to minimize waste management costs and increase site efficiency.
Increase Efficiency of Garbage Disposal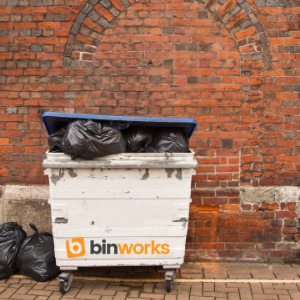 For any construction project, including new construction of an office to a renovation of your home, ensuring a good waste management system is essential to keep the building and people safe and clean. However, for projects of this size, construction debris and general waste add up quickly, and it can take time to transport waste in several trips, especially when needed to fill up a vehicle multiple times in a day to transport to a secure waste disposal area. By renting a disposal bin, it can be placed near your construction site or home and allow for quick trips to the bin. This will reduce the amount of garbage build-up on-site and increase your garbage disposal system's overall efficiency.
Reduce Waste Management Costs
As mentioned, typical waste management costs can quickly add-up as it requires several people to make multiple trips to dispose of the garbage and lead to a loss in manpower, efficiency, and travel costs. Utilizing a bin rental can be placed near your project to ensure easy access and reduce the cost required to make multiple trips to a waste disposal site. Bin rental services provide transportation as well and will place the bin to where you need it and pick it up once it's full or your project is near completion. A waste bin can significantly lower your waste management costs and help to ensure that your construction sites are safe and clean.
Explore Size Options
Different projects have different waste management requirements and loads. The waste produced from a backyard renovation or garage cleanup is much more different from the construction of a new office building. Regardless of the construction project you're working on, there are a variety of disposal bins that can be utilized based on needs and load. From 5 to 20 yards, you can order various bins for your projects and ensure that you get the most cost-effective one and a bin that fits into the space available.
Renting a bin can improve your waste management and overall construction project efficiency, reduce the costs during the waste removal process, and be used for various projects, small or large. Waste management is often overlooked but can be a huge factor in ensuring that your project is done quickly, safely, and efficiently. At BinWorks, we provide a variety of bins and easy-to-schedule transportation services for your waste. Contact us today to see how we can help!